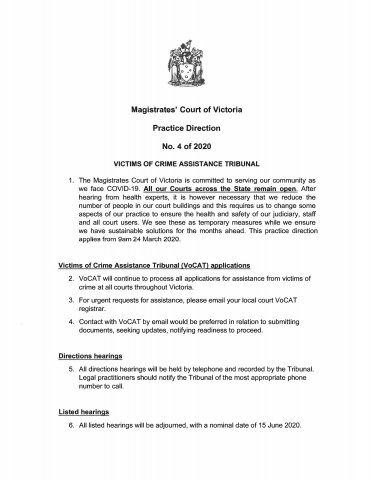 The Victims of Crime Assistance Tribunal is committed to serving the community as we face COVID-19. After hearing from the health experts it is necessary that we reduce the number of people in court buildings and this requires us to change some aspects of our practice to ensure the health and safety of our judiciary, staff and all court users.
The attached Practice Direction outlines changes to the operation of the Tribunal and applies from 9am 24 March 2020.
Tribunal contact information, including venue email addresses, can be found on the Our Locations page of our website.
As we move to electronic transmission where possible, please provide bank account details for electronic fund transfer with all completed statements of claim and requests for payment to avoid delay.
Should you have any enquiries regarding the attached information please contact help@
Practice Direction 4 of 2020 - Victims of Crime Assistance Tribunal
Page last updated on 24 Mar 2020